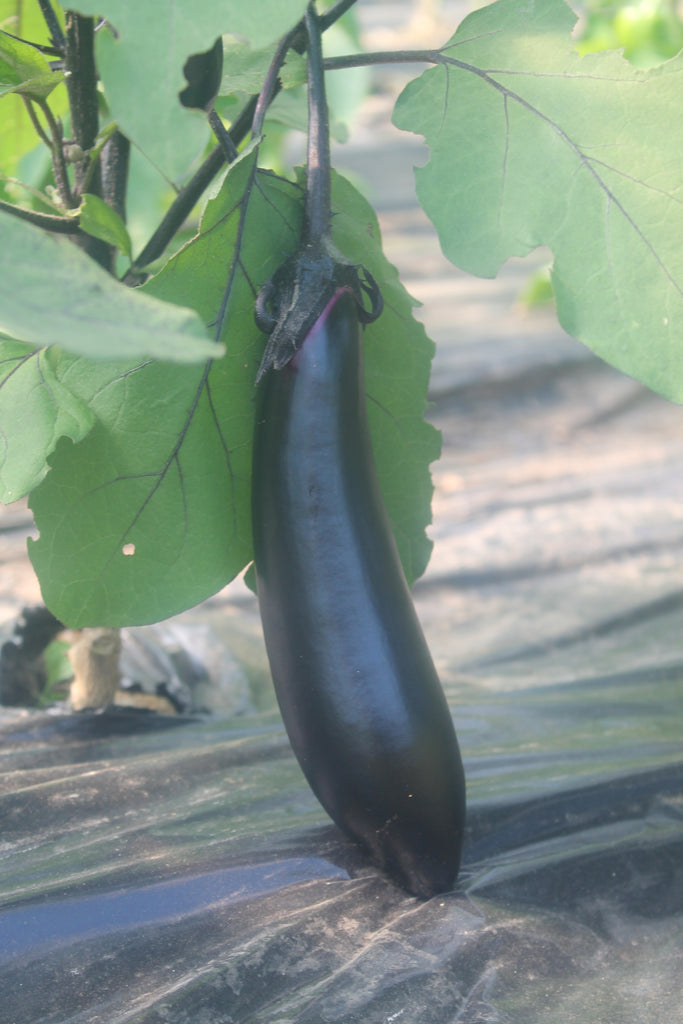 Cynthia's Kitchen
I've talked to a number of folks who are afraid of cooking eggplant. Perhaps it's because you really need to salt it to get out some of the moisture before you cook it. Here are a couple of ideas.
OVEN ROASTED EGGPLANT
Slice eggplant in half lengthwise. Score the flesh deeply in a diamond pattern with two or three long cuts. Press on edges to open the cuts and sprinkle a little salt over the surface. Let sit for 30 minutes. Heat oven to 400 and line a baking sheet with parchment.
Squeeze the eggplant to extract salty juice and wipe with paper towel. Brush with a little olive oil. Arrange cut side down on top of a sprig of herb (thyme, basil, rosemary, or garlic scapes). Bake for about an hour until eggplant collapses and bottoms turn brown.  Cool at least 20 minutes. Serve at room temperature with lemon wedge or drizzle with vinaigrette.
Easy and delicious.
EGGPLANT DISHES
Slice eggplant into rounds and sprinkle with salt. Let sit a half hour. Rinse and drain. Saute in a little olive oil until soft and browned. Now the rest is up to you.
IDEAS -
1. Layer browned eggplant slices with goat cheese mixed with chopped garlic scapes and basil leaves. Put a little Parmesan and/or bread crumbs on top. Bake in moderate oven until browned.
2. Layer browned eggplant slices with fried zucchini slices and tomatoes or tomato sauce. Bake.
3. Layer browned eggplant slices with ricotta cheese processed with a couple of eggs, basil, garlic scapes, and some Parmesan. If you want meat, use some seasoned ground lamb or beef as one of the layers. Top with bread crumbs. Bake.
4. Put browned eggplant slices in bowl. Cover with seasoned yogurt mixed with chopped scapes and basil. Let sit in fridge a few hours. Serve cold or at room temperature.
---