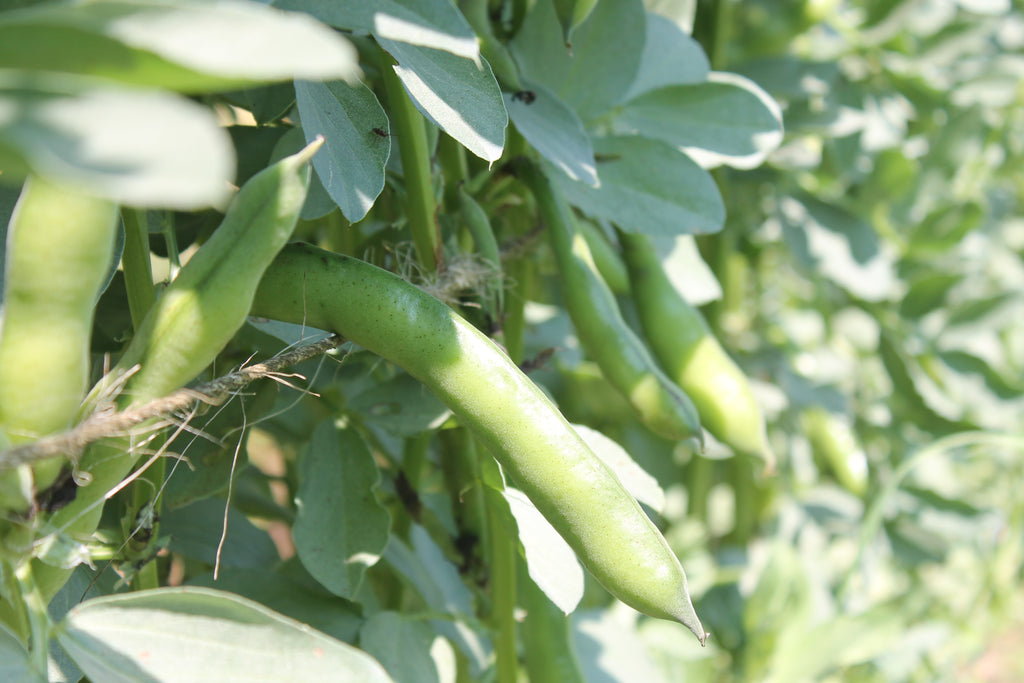 Cynthia's Kitchen - Fava Beans
Fava beans are one of the oldest domesticated food legumes. References to favas occur in both the Talmud and the Mishna, indicating they have been part of the Middle Eastern diet since at least since the 4th century. Don't let them scare you. They are delicious as a snack or any number of meals.,
First, "unzip" the pod by the string and open. Remove beans. There are usually 4 - 5 in each pod. Then you need to remove the waxy outer coating. Blanch in boiling water for 30 seconds and transfer to an ice bath to stop cooking. The coating will slip right off. From here, you can steam them till tender, and toss them in a mixture of salt, olive oil, and lemon juice. Or you can mash them and spread them on bruschetta, or fold them into mashed potatoes. They're also a great addition to a green salad, a risotto dish, or pasta.
Here's a recipe from Bobby Flay.
Place 2 cups cooked beans in a bowl. In another bowl, combine 2 T. lemon juice, 1 T chopped garlic or scape, and 2 T olive oil. Whisk. Season with salt and pepper. Pour over beans and mix. Add a little Manchebo, Asiago or Romano cheese and a little parsley. Delicious.
And here's another, from me. (Make risotto according to your recipe). Sauté some mushrooms and whatever you have like onion, shallot, garlic, kale. Build your risotto on top of that. When the risotto is finished add cooked fave beans and a poached egg on top of each serving. This makes a whole meal or a side dish and is delicious. 
If you haven't made risotto, here is my basic recipe. You can add just about anything to it.
Sauté something in your pot. Add Aborio rice (yes it needs to be Aborio which you can find at any store) and a half cup of white wine. Stir until wine is incorporated into the rice. Then keep the heat low and every few minutes, add some vegetable or chicken broth and give it a stir. Keep doing this until the rice is very tender and creamy. Then add 1/2 - 1 cup of good Parmesan cheese and stir. Your friends will ask for it again and again.
---