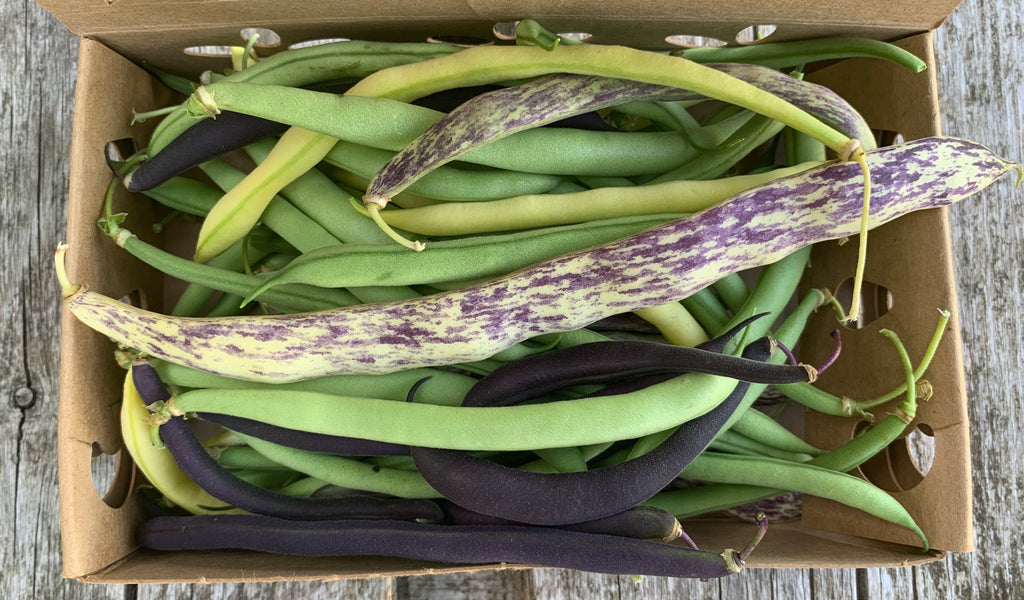 Cynthia's Kitchen - Green Beans
Here are a few recipes for green beans that you might not have tried:
1. Preheat oven to 400 degrees. Spread a pound of trimmed beans onto a foil lined baking sheet. Sprinkle with four cloves of minced garlic or some minced scapes. Drizzle with a little olive oil and some salt and pepper. Toss a little to coat evenly. Roast 20 - 25 minutes until tender.
2. Loubieh bil Zayt or Lebanese green beans - My first husband was Lebanese and this was always my favorite Lebanese dish. Melt a pat of butter in a saucepan. Add some sliced onions and chopped garlic, cover, and cook until translucent - 3 - 5 minutes. Add a pound of beans cut in half. Covered cook another 5 minutes. Add 6 chopped tomatoes, 1 tsp each of cinnamon and allspice (I double the spice), and salt and pepper. Cover and simmer for 20 minutes or so until beans are cooked but have a gentle bite. Remove lid and cook until sauce is thickened.Remove from heat, add some olive oil and stir. Let sit 5 minutes. Serve over rice or potatoes. I often add ground lamb or beef to this dish. 
3. Here's a take on Chinese green beans. Blanch a pound of prepared green beans for about 4 minutes. Drain and put into cold water. Heat a frying pan. Add a little oil over low heat. Add 2 tsp sesame seeds and fry intel it crackles. Add a little soy sauce, rice vinegar, chili garlic sauce and the green beans. Fry until everything coats the beans.
4. Here's one if you have some bacon fat left from frying your bacon. Put 2 Tbls bacon grease(or butter) in a skillet. When melted, add 2 cloves chopped garlic and 1 chopped onion. Cook for a minute. Add beans and cook another minute. Add a cup of chicken or veggie broth, 1/2 cup chopped red pepper, salt and pepper. Turn heat to low. Cover skillet, leaving lid cracked. Cook until liquid evaporates and beans are fairly soft, 20 - 30 minutes. You can add more broth if needed but don't be afraid to cook it all away so onions and peppers can caramelize. 
5. Don't be afraid to experiment. Beans are great in potato salad, on pizza, added to a green salad. And an added bonus - beans are really good for you!
---