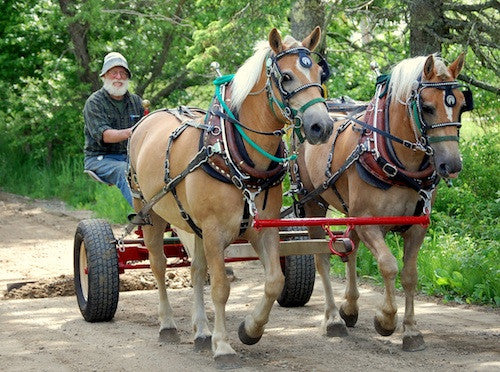 Foundations
It's been almost a month and a half since the fire and I'm not sure whether it seems like more time or less time since it happened. We are all trying to do what we're supposed to do to keep the farm going but sometimes it's really tough.
The slab is cured and we're just waiting for the timbers to be cut. Below is a diagram of how the cuts are made and how they line up. The finished joint is very strong and beautiful. The barn that burned was made in this fashion and we felt it was important to build the new one with the same joinery.
We're working on the water line and the electric lines so they will be ready when we need them. The horses are getting a good workout pulling a piece of rail up and down the driveway to smooth out the potholes and to familiarize them with Bill and the area. Also, it gives Bill a chance to see how they react to things around them.
Freshly-poured slab
We bought a replacement hay conveyor belt yesterday and will use it when we put hay up in a neighbor's barn. Bill's been bringing in hay and so far we've had enough room to store it in our various outbuildings.
I got kind of a shock today when I was on the porch, looking over the slab, and saw that the large spruce trees at the corner of the driveway were all scorched and dead on the side facing the fire. Every day we notice a new scorch or burn.
Taking care of his new friends
Lucky, the chicken, has been identified as a rooster which creates a dilemma because if we put him with the flock, the other roosters will attack him. For now, Evelisse takes care of him and he follows her everywhere she goes.
The timbers may be going up as soon as a couple of weeks and then we'll start to board it up, put on the roof, make stalls, etc That's when the volunteers will be very important and we'll certainly get the word out via the Ellsworth American, Schoodic Arts for All, and this blog.
Like movie stars
Again, at the risk of seeming redundant, thank you all for your generosity and thoughtfulness.
---