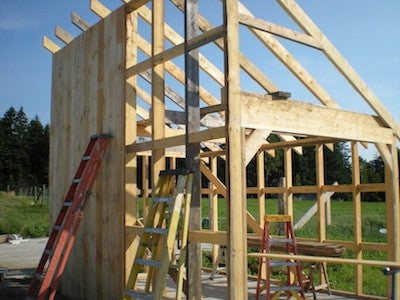 Framing the Dye Shed
Finally - this week there's been a lot of progress. We poured the cement pad for the sheep loafing area, we hired a guy to start work rebuilding my dye shed that was attached to the barn, and, because we moved the barn back 25', we've been able to plant some grass in front of the house. We also built the berm with stone from the old barn's foundation.
Framing up the Dye Shed
Next week, August 1, the timber frame company will arrive with cut timbers and begin raising them. We are very excited about it and can now envision the new barn. Our chickens that were raised by the Ellsworth Feed and Seed are out on pasture along with the turkey poults. They seem contented to be out there.
Framing up Dye Shed II
I will post pictures as the rebuild goes along. You are all welcome and encouraged to come up and see the progress. Early in September we will having work parties to board up the barn, make stalls, floors, etc. If you're interested in helping, please email me at darthiafarm@gmail.com and let me know what you are interested in.
Thank you all very much for your donations and kind thoughts.
Almost like a putting green
Pad for the sheep loafing area
---