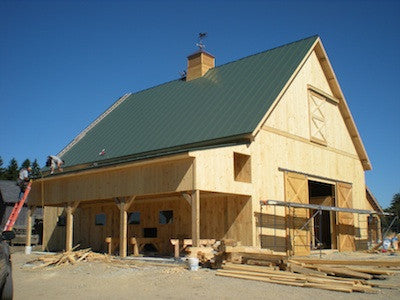 Nearly There
Our new barn is 98% completed as of today! Last Saturday we had another work party and laid the hemlock floor in the alley and horse stall, boarded up the rest of the partitions, built a grain bin in the harness/grain room. Then the metal roofers, Holgerson, from Appleton, moved in and completed putting on the metal roof on the barn, sheep loafing area, and dye shed.
Pretty amazing !!
This week we go to the Common Ground Fair in Unity from Thursday through Monday so we won't be working to finish things up but as soon as we get back, we'll get the sheep stall completed and pick up our sheep from Alfie who has donated a ram and some ewes to us. The ram is a full brother to the one we lost in the fire. Bill's planning to bring the horses in the barn TODAY.

Lucky, the lone survivor of the fire, checks out his new digs...
We feel so blessed to have had such an outpouring of help from our friends and even strangers who wanted to pound a nail or two, or bring cookies and soup. As you can see from the photos, all that is left is a door for the sheep hay, a small bit of flooring, a door for the trash room, and some odds and ends. It is the most beautiful barn I have ever seen in my life and we are very grateful to all who made it possible. Please come up and see it any time.

And of course, Bill's new friends, think this is all pretty swell
---