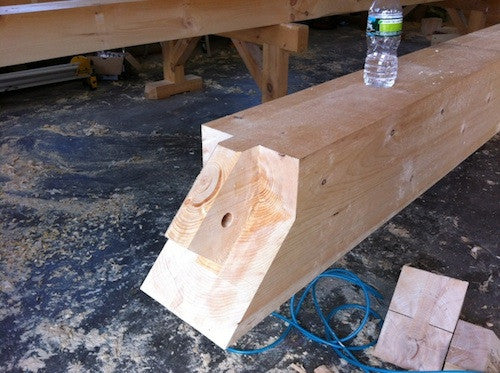 Building Blocks
It's been a long time since my last entry about the progress of the new barn and for that, I apologize. The timber frame company has been busy cutting the joints for the timbers but we can't see them because they're cutting them in their shop.
Here are some pictures of the timbers and the joints.
But now we have a projected time line.
The approximate start date for the timber frame company to erect the timbers is August 1, with a completion date of August 17. If all goes well, I suspect it will be sooner than that. If you'd like to watch any of it, please feel welcome. Bring a chair and a sandwich and park yourself where you can have a good view of what's happening. I'll update times as it goes along.
After the timbers are up, a crew will frame the roof and sheath in preparation for the metal roof. By August 27, the Holgerson Roof Company will put up a dark green metal roof. We hope to build the sheep loafing area extension before that so that the roofers can just extend the main roof to cover the extension.
The projected date of September 3 is when the volunteers can strap and sheath side walls to prepare for the shiplap siding boards, which have been donated to the farm by MOFGA, harvested from their sustainable woodlot. After that, the decks will be sheathed. That's when we'll need volunteers with hammers and saws, as well has folks with food. We'll have some music going and it will be a regular old barn-raising.
It's going to be a very productive summer here at the farm. In fact, tomorrow morning, we have a neighbor with a bulldozer coming to do some landscaping work. Because we've moved the barn back about 25 feet, we have the ability to reroute the driveway enough to slow down through traffic. We also have a sign coming from Sierra Signs in Hancock that will say – Darthia Farm, rebuilt by human kindness. And truer words have rarely been spoken.
The outpouring of love and support from people all over the country have enabled to plan to rebuild a beautiful post and beam barn that will house our new horses, a flock of sheep donated to us by Alf Wakeman, and some new calves. We'll also have a tack room, a "clean" room for medicines and equipment, stalls for the sheep, stalls for new lambs, four horse stalls, several stalls for calves and pigs. We're very grateful for everyone who has helped and who will be helping with this endeavor. Thank you all.
If you want to participate in carpentry or food preparation, please email me at darthiafarm@gmail.com. I will keep this blog up to date as soon as I get more information.
Please come up anytime to see what's happening.
---